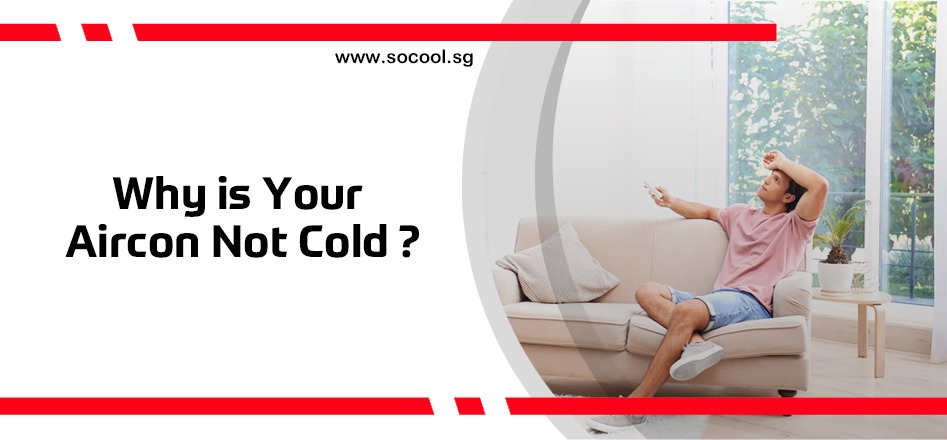 The mere job of an Aircon is to keep the room cool and bearable. An Aircon has become more of a necessity in today's times considering the kind of climate in Singapore. The tropical climate of Singapore makes it impossible to survive without an Aircon. An Aircon will not only give you a good night's sleep but will also save you from being covered with sweat all the way! Nobody wants an uncomfortable and an inconvenient life and Aircon can make you quiet comfortable and can quiet literally cool you down!
But what happens when the mere reason that you bought an Aircon for goes down the drain? What happens when your Aircon stops throwing cold air? Let's find out!
Reasons for Aircon not Blowing Cold Air
There are a lot of reasons why an aircon is not cold stops giving out cool air. Let's understand the most important ones:
Clogged Air Filter
Dirty condenser coils
Broken compressor
Space oriented Aircons
Leaked refrigerant
Dirty Evaporator
Blocked Condenser
Clogged Air Filter
The primary agenda of a filter is to sustain air particles from travelling through the ducts of an Aircon before they cause any damage to the entire unit. If the filter remains unserviced and unchanged for far too long, it will get clogged and obstruct the flow of cool air. There is a good chance that the evaporator coil will freeze and won't be able to perform the function of cooling the air anymore.
Dirty Condenser Coils
At times, dirty condenser coils get filled with molds and debris thereby making it difficult for an Aircon not cold to give out cool air. The condenser in an Aircon dissipates heat and it is mandatory for a condenser to be clean so that the heat can be dissipated outside. A dirty condenser impacts the functionality and the effectiveness of an Aircon and therefore makes air cooling a difficult task.
Broken compressor
A compressor is the main reason behind the effective cooling provided by an Aircon. If the compressor is damaged or broken, it becomes impossible for the indoor units to circulate cold air. Maintenance of a compressor must be of high priority for anybody who owns an Aircon and who wants the Aircon to run properly for a longer period of time.
Defective Thermostat
A thermostat is that part of an Aircon that helps in detecting the temperature outside and hinting the compressor about starting or stopping the cooling cycle. A problem in the thermostat will interrupt the entire cooling cycle and you won't be able to enjoy cool air from your Aircon anymore.
Space oriented Aircons
Always buy an Aircon in accordance with the space it would be put up in. If you buy a small sized Aircon for a bigger space, cooling of that space takes longer and is a difficult process. Likewise, if you buy a big sized aircon for a small room, it will never be able to work as per it's efficiency and will result in increased electricity bills.
Leaked Refrigerant
A leaking refrigerant is one of the reasons why your Aircon is struggling to give out cool air. Warning messages are shown to replace the refrigerant if you want to continue chilling out with your Aircon working to its full capacity.
Dirty Evaporator
The real cooling in an Aircon occurs along the surface and the fins of the evaporator therefore it becomes all the more important for the evaporator coil to be neat and clean in order to give out cool air into the room. An evaporator with debris or dirt will drop the efficiency of an Aircon to perform the cooling function and will also develop ice on itself. Immediate assistance of a professional is needed to clean the dirty evaporator. We are always available. Just pick your phones and dial us!
Blocked Condenser
A blocked Condenser means that your Aircon has stopped it's cooling function and therefore you are not able to enjoy the cool and chill air that your Aircon once provided. It's always better to know what is happening in your Aircon is not cold unit and to fix any arising issue in time.
Why Choose Socool to Solve Your Aircon Not Cold Problems?
We have wide industry experience that allows us to deliver quality aircon services. Having serviced thousands of air conditioners, we know how to service all types of brands in the best possible manner such as Daikin, Mitsubishi, Samsung, Panasonic, LG, York, Midea
Our team includes highly experienced and expert professional who are committed to excellence in all their endeavors.
We have proven record of providing aircon services to split aircon, ceiling cassette, ducted aircon, window aircon and VRV System that give you real results.
We offer complete aircon services ranging from regular servicing to aircon overhaul and more. So once you contact us you don't need to bother to look for other companies.
Our variety of pricing options is suitable for customers with different backgrounds. You can select a suitable package and benefit from quality air conditioning services without worrying about the price.
Unlike other aircon services, we don't let you keep waiting. In fact, we reach out to our customers at times that fit their routine and lifestyle. We are there to serve you 24/7 so feel free to contact us.
We have the expertise to deal in all brands. Therefore, you can entrust your unit to us without wondering or being unsure if we can service it in the right way or not.
Our focus is on customer satisfaction. We try our level best to meet the needs of our valued customers. Avail our services and enjoy the best experience of life with us!