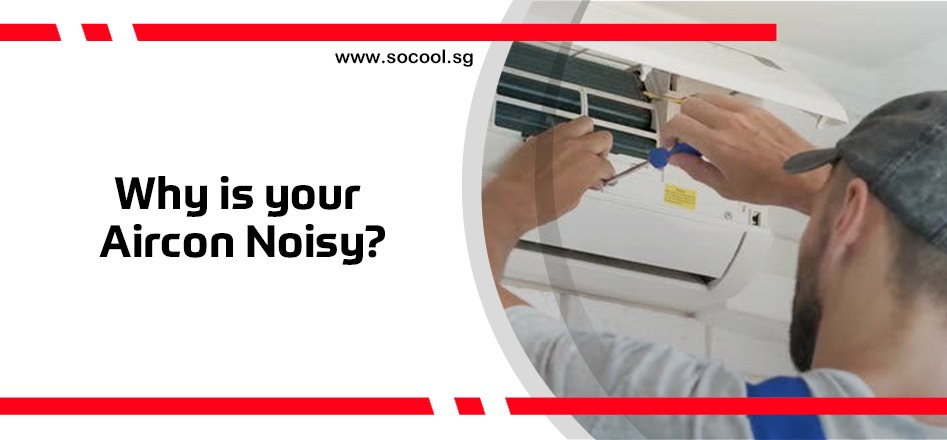 Unnecessary noise around the house can really irritate us and get on our nerves. Considering Singapore's climate and the Sun shining so bright and giving us heat nightmares, Aircon is a must. But what happens when the Aircon who was supposed to give you calm and cool starts annoying you because of the noise?
Normally, we ignore the sounds coming from the Aircon assuming it to be normal or just concluding that there is nothing serious and absolutely nothing to worry about. But sometimes, ignorance can cost you a lot as little issues can take the shape of major expenses if not addressed on time. Noisy aircons don't necessarily mean that you need to get your aircons replaced. It could just need a quick and simple service or it may even need to be replaced. Whatever the case, timely attention to the Aircon is what is needed to avoid unnecessary expenses and stress.
Reasons for Noisy Aircon:
Let's have a look at some of the most common reasons for a noisy Aircon:
Banging
Clanking
Clicking
Buzzing
Humming
Squealing
Screaming
We're sure that after reading the above types of noises, you must be surprised to know that aircons too like humans can make such noises! Let's know a little more in detail for better understanding!
Banging
With time, the parts inside your compressor can be exposed to certain wear and tear which is pretty common as afterall, Aircon too is just an electrical machine. The parts inside start to loosen or break and therefore clash against each other resulting in a banging kind of a sound. Unbalanced indoor blower is also one of the reasons behind the Aircon making a banging sound. Worst case scenario, your Aircon will constantly let out a banging sound when your compressor itself needs replacement.
Clanking
When the compressor becomes lose and unbalanced, there often is a clanking sound produced by the Aircon. This could be a loud signal for you to replace your Aircon. A clanking sound could also indicate that the indoor blower and the outer blade have overlapped or are not rightly balanced hence hitting and overlapping with other parts of the Aircon. It is best to address these issues as soon as they occur so that further damage and expenses can be avoided.
Clicking
Ever paid attention to the faint clicking sound whenever an Aircon is turned on and then turned back off again? This faint clicking sound is common and natural but what is not good is that if this clicking sound can be heard the entire time. It could be because of a defect in the thermostat. Never ignore these defects and call an experienced technician that is us right away!
Buzzing
Hearing a buzzing sound from your Aircon can happen due to a lot of reasons. Some of which are a loose or unbalanced outdoor motor, unbalanced blower in a bad condition, loose and out of balance fan blades, copper lines rubbing against something, dirty condenser lines, need for the air filter to be changed and debris in either the indoor or the outdoor unit. An individual cannot handle the repair of an Aircon which comes with such a big list of possible defects. It's best you call us and leave the rest in our hands. We promise to make your Aircon fit and healthy like before!
Humming
Althought not very serious, it is still an indication that there is something wrong with your Aircon. Usually a vibration is produced when there is an issue with the refrigerant you or when there is a loose part somewhere due to which there is a humming sound. Electrical issues can also be a reason for such noises. The compressor is usually the main culprit in the noise department. If there is a humming sound in the compressor and it just doesn't start, you really need to call us to fix your Aircon and to save you from some really scary and annoying noises.
Squealing
The duct system transfers noises from the blower and the fan. These noises are almost like squeaks, squeals and rattles(horribly irritating)! Close your eyes and believe blindly that ifbyiu hear a squealing sound, it is because of the indoor and outdoor motors. These are the signs that should make your dial us while also saving yourself from some terrible noise!
Screaming
Yes, we aren't talking about humans screaming. Aircons scream too! But why? Well, there's only one reason why an Aircon would scream and that is because of leakage in the refrigerant. This will not only destroy your Aircon but it is also very harmful for people and things around you. The first thing that you need to do is turn off the aircon until an experienced technician that is we have a look at it.
In a nutshell, if you really want your Aircon to run and work for longer, look out for the signs and don't ignore the warnings. Reach out to us and save yourself from the ear-screwing noises!
Why Choose Socool to Solve Your Aircon Problems?
We have wide industry experience that allows us to deliver quality aircon services. Having serviced thousands of air conditioners, we know how to service all types of brands in the best possible manner such as Daikin, Mitsubishi, Samsung, Panasonic, LG, York, Midea
Our team includes highly experienced and expert professional who are committed to excellence in all their endeavors.
We have proven record of providing aircon services to split aircon, ceiling cassette, ducted aircon, window aircon and VRV System that give you real results.
We offer complete aircon services ranging from regular servicing to aircon overhaul and more. So once you contact us you don't need to bother to look for other companies.
Our variety of pricing options is suitable for customers with different backgrounds. You can select a suitable package and benefit from quality air conditioning services without worrying about the price.
Unlike other aircon services, we don't let you keep waiting. In fact, we reach out to our customers at times that fit their routine and lifestyle. We are there to serve you 24/7 so feel free to contact us.
We have the expertise to deal in all brands. Therefore, you can entrust your unit to us without wondering or being unsure if we can service it in the right way or not.
Our focus is on customer satisfaction. We try our level best to meet the needs of our valued customers. Avail our services and enjoy the best experience of life with us!