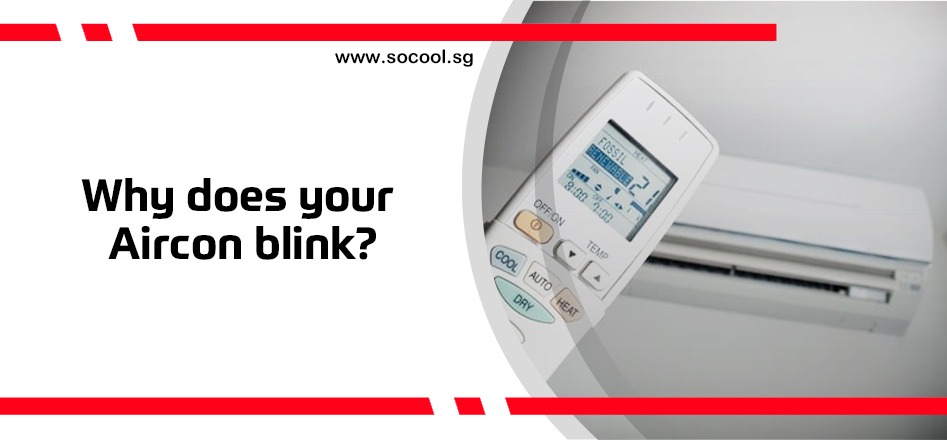 Technology has its setbacks but there are some advantages too. A few years ago who would have thought that there would come a day when there would be something like an air conditioner, stylishly called an Aircon, that would make us forget about the scorching heat? Especially in a country like Singapore where the climate is so damn hot, aircon is a must. Imagine working in an office that does not have an aircon and just a ceiling fan to depend on for some relief from the bad and hot temperature? Aren't you already sweating? After its launch, all an aircon did was cooling the air. But as time passed, a lot of features were added and many brands started coming up in the market. In today's times, aircons have more use than just cooling the air. They operate on different modes such as dry mode, cool mode, and fan mode.
But at the end of the day, the aircon is a kind of machine and every machine will have some shortcomings. One such shortcoming is when your aircon blinks. You can blindly conclude that whenever an aircon blinks, there is a problem with the aircon unit for sure. Let us look at the reasons why an aircon blinks.
Reasons for Aircon Light Blinking 
There are quite a few reasons why an aircon blinks. Let us get you educated on a few most important ones.
As true for all the other things in life- too much is too bad. So when an aircon experiences too much load or when there is sudden or abnormal power withdrawal, it triggers the status light of an aircon. This happens when there are some problems with the electrical wiring or the power circuit board. Isolation testing is one way to fix the problem and needs to be done a soon as possible and by an experienced electrician or a technician. If there is a mistake in the power cable or the power circuit board, replacing or repairing the faulty part is highly recommended.
There are times when an aircon is not able to circulate air properly in the room because of improper positioning of the aircon unit. Sometimes, there is also a problem with the motor of the unit. In such cases, an error message is shown in the display of the remote of the aircon unit. If there is no error message, it is a sign that you need to call an electrician or a technician.
Problem with the condenser
Sometimes the aircon is not able to circulate air properly if there is a problem with the condenser of the aircon. To avoid this, always make sure that you get your aircon serviced regularly, at least twice a year. Regular service avoids bigger damage and takes care of issues on time.
Aircon filters are responsible for supplying pure and fresh air inside the room. If these filters are not clean, then it disrupts the process of pure air being supplied to the room. There are a lot of reasons behind the clogging of these filters and therefore care should be taken to get these filters checked and serviced on time. You can either follow the instructions on the manual and clean it yourself or get it serviced by a technician.
Incorrect installation of an aircon can be the primary reason behind the blinking of light in an aircon. There are a few companies that hire freshers or technicians who are not trained properly in installing a particular model or so. This becomes a problem and therefore you can see the blinking light in your aircon. No matter what the reason be behind the blinking of light in your aircon, We are always there to repair any problem that may have occurred within your aircon. We have experienced and well trained who have appropriate knowledge about each model and are also well versed with the installation of the same.
Why Choose Socool to Solve Your Aircon Problems?
We have wide industry experience that allows us to deliver quality aircon services. Having serviced thousands of air conditioners, we know how to service all types of brands in the best possible manner such as Daikin, Mitsubishi, Samsung, Panasonic, LG, York, Midea
Our team includes highly experienced and expert professional who are committed to excellence in all their endeavors.
We have proven record of providing aircon services to split aircon, ceiling cassette, ducted aircon, window aircon and VRV System that give you real results.
We offer complete aircon services ranging from regular servicing to aircon overhaul and more. So once you contact us you don't need to bother to look for other companies.
Our variety of pricing options is suitable for customers with different backgrounds. You can select a suitable package and benefit from quality air conditioning services without worrying about the price.
Unlike other aircon services, we don't let you keep waiting. In fact, we reach out to our customers at times that fit their routine and lifestyle. We are there to serve you 24/7 so feel free to contact us.
We have the expertise to deal in all brands. Therefore, you can entrust your unit to us without wondering or being unsure if we can service it in the right way or not.
Our focus is on customer satisfaction. We try our level best to meet the needs of our valued customers. Avail our services and enjoy the best experience of life with us!