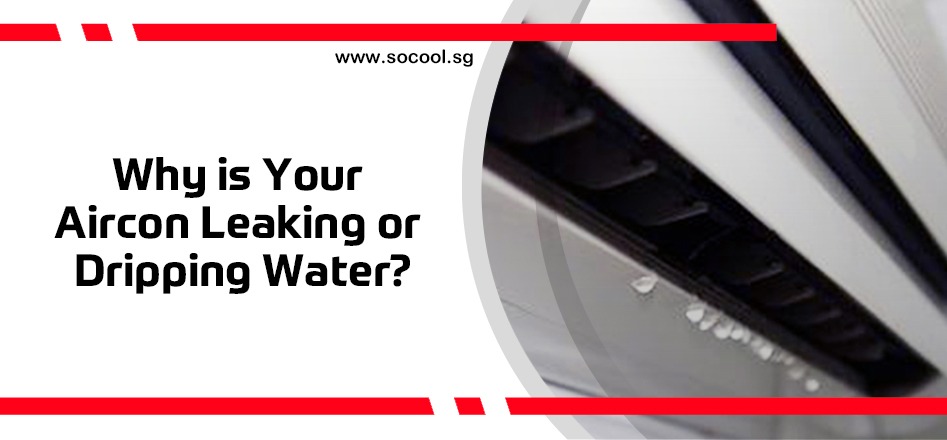 For those of you who have stayed for even a month in Singapore know that an Aircon conditioner is a must to live here. The climate of Singapore forces you to have an aircon in your house. But no matter which aircon you choose, every brand will show some problems in a few years like change in weather, over or under usage, lack of maintenance, etc. Due to these reasons, an aircon is set to show some issues- leaking or dripping of water from your aircon being one of them. Some people take a leaky aircon lightly and don't quite often address the issue immediately. This can lead to serious damage to the property as a faulty aircon can damage your ceilings, walls, and whatever is around the air conditioner. It is recommended to call a professional or a technician whenever you notice that your aircon is experiencing a water leak.
Reasons for Aircon Leaking or Dripping Water:
There are a lot of possible reasons why water can leak from an aircon. Below are the most common listed reasons for aircon leaking water or aircon dripping water:
This is one of the most common reasons why water leaks from an aircon. Air that reaches the aircon is supposed to pass through the vent. But if the air does not pass through the vent, it means that there is an air leak problem with your aircon and therefore the dripping of water and the aircon not functioning optimally.
Now, you can't just sit and do nothing right? So, what should you do? Observe and test the equipment and check for any kind of leakage around the grates of the vent. If you see an air leak, take it as a green signal to call a technician.
A blocked aircon filter is common and happens almost in every Aircon no matter which brand you buy. A blocked filter will disrupt the flow of air into the aircon's system. Due to this, the air freezes on the filter and when the aircon is switched off or when it reaches the desired temperature, the frozen air on the filter melts, and therefore you experience a leak in the aircon.
A clogged air filter will interrupt the airflow from reaching the evaporator which will lead to a temperature drop. Due to this, if the coil becomes too cold it will freeze. The indoor unit stops taking in air to the interior when the aircon is turned off thus resulting in the frozen air melting away or warming out. If this melted ice fills the drip tray capacity then your aircon starts leaking immediately and automatically.
There is something called a condensation pump in an aircon whose main work is to prevent any kind of water leakage. This pump is present below the cooling coil. If this pump breaks down or experiences any kind of damage or discrepancy in its work, your aircon will start leaking thus increasing your work and also stress.
Clogging of the Drain Line
Whenever there is an over-accumulation of mold, dirt, fungi, and debris, the drain line gets clogged hence delaying the flow of water out of the aircon. This may lead to too much water being stocked inside the aircon thereby making it dysfunctional. What is worse os that Singapore's weather adds on to the problem by making it worse. The inflow and outflow of water into and outside the aircon is greatly affected by the tropical climate of Singapore.
The whole problem begins with the improper installation of the aircon. What you need to always take care of is that the front part is cooler than the rear end. This will ensure systematic drainage of the water which will in turn prevent water leakage and dripping of water.
Aircon is a means of relief and we need to make sure that it remains that way and doesn't add on to our stress. Timely care and maintenance of the aircon will make your life a lot simpler, better, and easier. You can always rely on us for timely repair and maintenance services if your aircon and enjoy our punctual and prompt services all of which are available at reasonable and affordable prices.
Why Choose Socool to Solve Your Aircon Leaking Water Problems?
We have wide industry experience that allows us to deliver quality aircon services like aircon leaking water, and aircon dripping water. Having serviced thousands of air conditioners, we know how to service all types of brands in the best possible manner such as Daikin, Mitsubishi, Samsung, Panasonic, LG, York, Midea
Our team includes highly experienced and expert professional who are committed to excellence in all their endeavors.
We have proven record of providing aircon services to split aircon, ceiling cassette, ducted aircon, window aircon and VRV System that give you real results.
We offer complete aircon leak services ranging from regular servicing to aircon overhaul and more. So once you contact us you don't need to bother to look for other companies.
Our variety of pricing options is suitable for customers with different backgrounds. You can select a suitable package and benefit from quality air conditioning services without worrying about the price.
Unlike other aircon services, we don't let you keep waiting. In fact, we reach out to our customers at times that fit their routine and lifestyle. We are there to serve you 24/7 so feel free to contact us.
We have the expertise to deal in all brands. Therefore, you can entrust your unit to us without wondering or being unsure if we can service it in the right way or not.
Our focus is on customer satisfaction. We try our level best to meet the needs of our valued customers. Avail our services and enjoy the best experience of life with us!